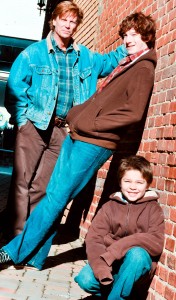 A week away!  It's truly amazing to me that in 7 days, the boys and I will be heading out on the adventure of a lifetime, jumping into the void of the great unknown.  It's unsettling at best, but the possibilities of discovery are endless.  I know that my sons and I will come back different people… that much is a given.  Here's a little inside information:  I have been really emotional and crying alot, not just because I'm a tad scared and sad to leave my life and people I love behind, but because I feel like something remarkable, extraordinary, and profound is about to take place and at times my feelings are overwhelming.
We fly out of JFK  and have a layover in Berlin, where Jackson will celebrate his 14th birthday.  He wants to go to the Berlin Wall, or at least check out what is still left of The Wall.  He's going to do a video blog on the subject, which I think will be really cool.
Then we are off to St. Petersburg, Russia for our first volunteer job.  We will be working with "Transit".  It's an organization that helps homeless teens transition from being on the street to being placed in foster care.  We are really looking forward to helping there.
We are so grateful to all the people who have made this journey possible. I want to thank a few by name:   Robert Shapiro, Ed Smith, Bo Henderson, Ed Springs, Liz Branca, Lisa MacLeish, LuAnne Bernier, Scott Pacitti, Kristina Haddad, Esther Benjamin, Rachel Woodhouse, Valerie Bobo, Sue Sanford, Jennifer Taylor, Michael Lightweaver, Peter Cipkowski, Bert Woodard, Jay Everette, Scott Galiher, Les Satinover, Lindsey Moser, Linda Britt, Patti Price and to every single actor at The Actor's Lab – Charlotte, who has encouraged me every week to plow through it.  I love you all.
Okay, Jack and Buck, time to start packing…  Let's begin The Lewis and Lewis and Lewis Expedition!
We'll keep you all posted.
You may say I'm a dreamer, but I'm not the only one…. jd