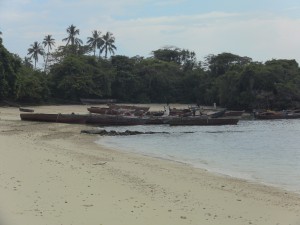 White sandy beaches, warm tropical breezes, the sound of rain on tin roofs, bustling markets with the smell of cumin and cinnamon, brilliant colored vegetables and yes, the stench of the fresh catch of the day… wide-open smiles with sparkling white teeth, dark brown skin, the vibrant kangas (the women's clothing)… then add the sounds of Swahili and laughter in the air… We are indeed in Africa…  Zanzibar, to be exact.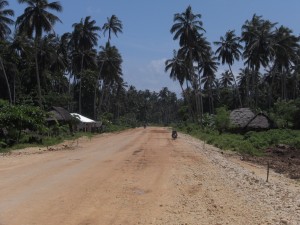 This island is famous for being a hub of the Arab slave trade back in the 18th and 19th century and, of course, known worldwide for its spices and beautiful beaches.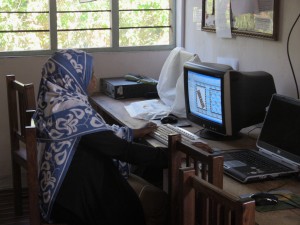 The pace is slow.  They call it TIA…  "This is Africa".  And they have a phrase called, " Pole Pole" (pronounced Paulie, Paulie), meaning "slowly, slowly".  Not an easy task for a westerner who has been taught that faster and more efficient is better.  But I am learning.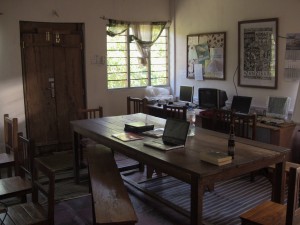 The boys and I have arrived on this lush oasis off the coast of mainland Tanzania in east Africa.  We were welcomed with open arms by Creative Solutions, an art school in the small village of Mangapwani built by Aida Ayers and Mbarouk Saad.  Here, children and adults are offered all kinds of educational opportunities.  I am currently teaching English in an open-air classroom, and Jackson and Buck are helping run the pre-school group.  The kids are so angelic, creative, available and joyful.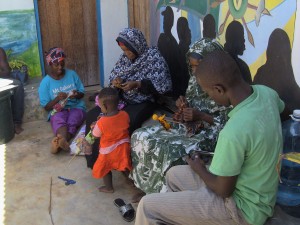 Currently, we are preparing for an art fair on the 17th of December, which will bring the locals together to sell their wares and share their art.
Our work here is especially gratifying, as each student is sincerely eager to learn. To master English here on Zanzibar is to open up a multitude of life possibilities and opportunities.  Farming and the tourist trade are two of the major industries here, and English is essential for the success in either field. All of my students (10 to 30), depending on the day, have managed to steal my heart.  We talk in broken English and they try to teach me Swahili…they fascinate me.  We talk about farming, how they hook up their ox to their carts, raising goats, how they pick the Jack Fruit off the trees… We talk about futbol, and music ( one's favorite called "Bongo Favor")…and we drink Coca-Cola, Orange Fanta and Stoney Tangawizi (my new favorite – it tastes like spicy Ginger Ale)…. And the best part is we laugh our heads off.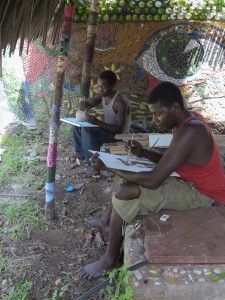 This small village offers little opportunity other than farming, but the locals do their best to eek out a living.  To have some land and an ox, cow, goat or chickens is to live well.  Again the thing that strikes me most, is the joy in which they live.
Creative Solutions is a vital part of Mangapwani, offering a haven for those who want to improve their lives. With a small staff of teachers and helpers, this place is making a huge difference.  They function on a very small budget but they are certainly not compromising on the education they are providing.  Twelve In Twelve is committed to help this school.  Anyone interested in organizing simple books for their library or even pencils, pens and paper or composition books, please let me know.  They are functioning with the bare necessities and need help in every area, whether supplies, monetary donations, and/or volunteers.  They have plans to expand the facility by adding a second classroom.  Currently the adult classes and children's classes are held under the same roof.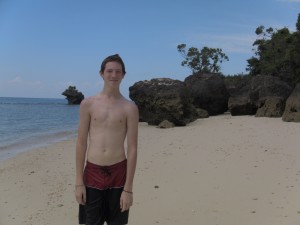 On our down time, the boys and I head down the road to the beach.  Not your average beach.  I know I am prone to painting extravagant visuals, but this beach is picture postcard perfect.  White sand, turquoise blue water, seashells still in tact, sand crabs scurrying sideways and deep blue skies with billowing clouds.  Words don't do it justice.  Just know that when we are there, the boys and I look at each other with this grin of "Holy Cow!".  Sometimes we will be walking down the road in this euphoric tropical setting and Jackson will look just look at me and say, "Dad….  We are on Zanzibar in East Africa".  And we will all three just get it!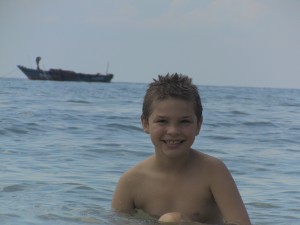 Last weekend we went into Stone Town.  Jackson, Buck and I took a Dolla-Dolla.  That's a sort of bus/taxi that is filled to the brim with people.  There were so many people crammed in that little bus that eight people were hanging on the outside of it, Jackson being one of them.  It was a crazy adventure.  Buck and I managed to get to a seat inside peering across at men, women and children staring and smiling at us.  A beautiful feeling… boiling hot, but beautiful, nonetheless.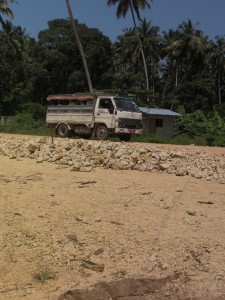 We are on the journey of a lifetime.   And the good news is we know it.  The people we have met, the sights we have seen, the experiences we have shared together… it has all been extraordinary and life altering.  And not just the pleasant parts either.  We have been given the opportunity to experience the poverty, the need, the less fortunate, those just trying to survive…  the hungry, the sick, the poor, the crippled, the lepers and the orphaned. This is a sacred journey that will stay with us forever.  When I say that we will never be the same, it sounds trite.  But I feel it and I know my sons do too.  The world is a big place full of different cultures and customs… But we are members of the human race with hearts, with pain, with joy, with needs, with hope, with the will to survive.   We are all in this together.   I hope that our volunteering in each of these places so far has been of some help.  I think it has…   and there is so much more to do.
Until soon….