We have been in Buenos Aires for the last two weeks, working with L.I.F.E. (Luchemos por una Infancia Feliz y con Esperanza – roughly translated means, Fighting for Children's Happiness and Hope).   LIFE arranges after-school programs, birthday parties and other activities for kids in the less fortunate suburbs of Buenos Aires.  They also have programs in homeless shelters within the city. Jackson, Buck and I have been splitting our time between the suburbs and homeless shelters.  
Our work certainly gives us a greater appreciation for all that we have.  Our first day on the job, we worked at a birthday party.  LIFE holds birthday parties once a month in a specific location for all kids with birthdays in that particular month.  Each child with a birthday in that month is given a present and shares in the birthday cake.  It's really a sweet program and the kids have the time of their lives, with games and activities.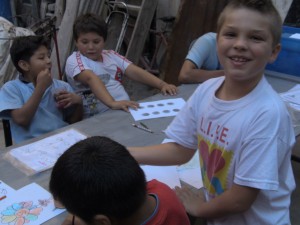 We have also been working with the after-school program, doing art project, worksheets and activities.  The kids really like the one on one attention and our spanish is getting better with each passing day.   I have to say, that love and attention breaks all bounds of language and culture.  We have yet to walk away frustrated by not being able to communicate fully.  By the way, the sign below translated reads – "When there is a will, there are a thousand resources.  When there is no will, there are a thousand excuses."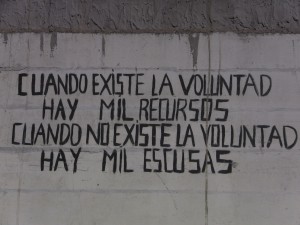 I think the most meaningful work has been at the homeless shelter.  The families live in a large shelter separated by cubicles.  They get 3 meals a day and have shower and bathroom facilities.  LIFE offers different fun activities for the kids… Jewelry making, art projects, school materials, and sports equipment.   Buck has taken to playing Futbol (soccer with the younger kids) and Jackson has become the guy that they all love to tackle.  It's amazing.  When we arrive, they all run up to us, so excited that we are there to play.  The appreciation is so sweet and makes the work so incredible. There is one little boys who has stolen our heart, Brian!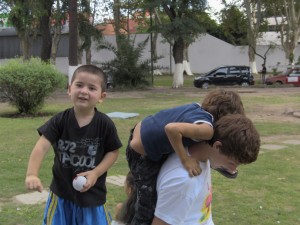 He has adopted Jackson and Buck as his big brothers.  There are just some kids that you know will grow up to do great things in the world, despite their circumstance.  I know that to be the case with Brian.  Smart as a whip, greatest smile on earth, and a pure heart of gold.   All the coordinators have said that Brian has really come "into his own" since Jackson and Buck have taken him under their wings.  Now he's super feisty, funny beyond belief…but the coolest thing is watching Brian look after his little sister who is 2.  Whenever snacks or art supplies are handed out, he always makes sure his little sister gets her fair share. When we left yesterday, he gave us hugs and then found his sister, took her hand and walk her back into the building.  Now that is a sign of a guy going places.  Brian, you are a class act!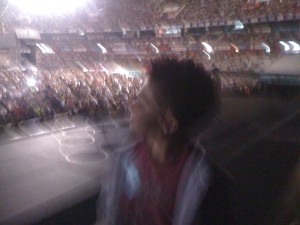 And more luck for the Lewis boys.  I found out my friend (and old neighbor), Mark Lennon, from the band, Venice, was in Buenos Aires touring with Roger Waters of Pink Floyd and the show, The Wall! I sent him an email, had lunch an hour later and then the boys and I got invited to see The Wall at The River Plate Stadium.  It gets better, we got band seats – 18th row center and got to go backstage and hang out with the band.  Picture to the right is of Buck center stage sporting his new mohawk in front of 60,000 fans.   How lucky are the Lewis Boys… Jackson and Buck even got drum sticks from the drummer and Buck got a Roger Waters guitar pick, his new prized possession.  The Wall is one of the most incredible shows I think I have ever seen.  If you get the chance to see it, go for it… They are touring around the world.  Thanks, Marky for my kids' first Rock 'N Roll stadium show.  Will be hard to beat.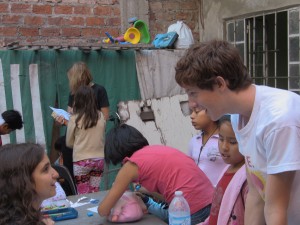 We are off this afternoon to do our after-school program and then tomorrow, back to the shelter to see Brian and the others again.  Buck has arranged for his sponsor, Lego, to ship Lego to LIFE  to distribute to the kids.   Very exciting.   
We leave Saturday to return to Ushuaia for our ship to Antarctica.  Holy cow!  
Then we will return to Buenos Aires to catch a bus to Cordoba to the mountains to work at a wild life sanctuary for Howler Monkeys… but that's another adventure.     More to come… and thanks, as always for all of your support and encouragement.