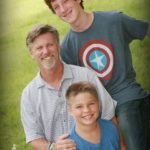 We have returned to the homeland. We've hit the ground running, full-tilt boogie. After 13 months on the road, we have returned to the Queen City – Charlotte. How does it feel? Bittersweet. Happy to be home and see all the people who are near and dear to us… to experience a hot shower, air conditioning, french fries, a car, and our beds. But I have to admit, I miss the adventure, the sense of deeper purpose, the present moment "day to day" living and I miss all of our friends that we have made along the way from all over the world. But no time to wallow in it because now the real work begins with the Foundation – Twelve In Twelve.
After Haiti, we arrived in Durant, Mississippi. Greeted by both of my sisters and their families, we had a few days rest before we headed to Jackson to work with an organization called, Operation Upward.
This organization's summer program feeds kids that are used to getting a school meal during the year but were not getting fed over the summer. A husband and wife team, they have created an incredible after-school program for kids with snacks, art program and sports. An inspiring couple and an organization that we are committed to continue working with.
After finishing our work there, we headed to the Gulf Coast to Gulfport to work with Habitat for Humanity. What an amazing group! The community is still in the process of rebuilding from Katrina. I was under the impression that Habitat for Humanity built homes and gave them to under-privileged families.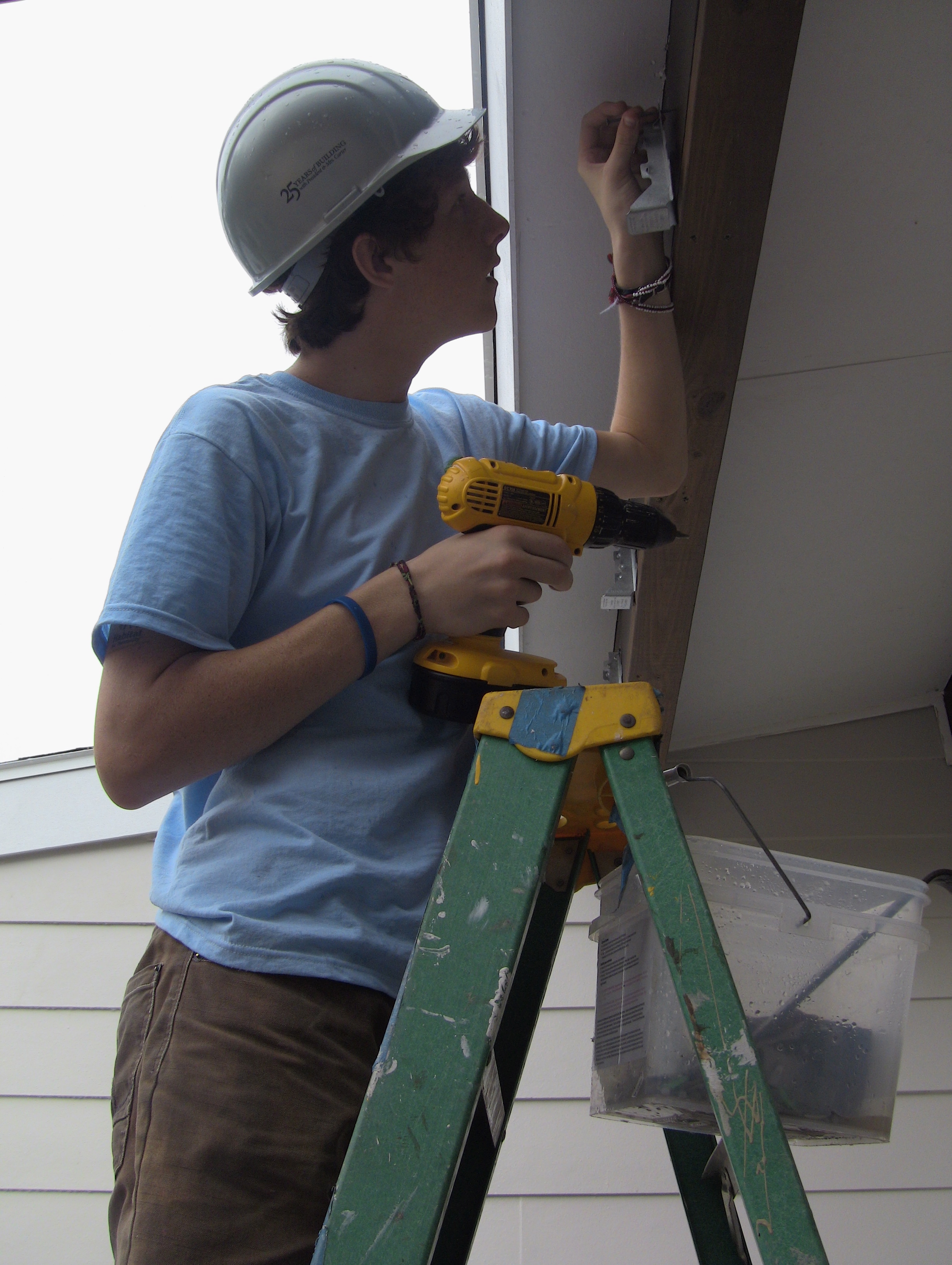 That's not how it works. They educate individuals and families… helping them to get their credit in order, to learn to budget for a mortgage, and then actually helps them build their own home. The person getting the home is require to participate in the building of the house and will then have a manageable mortgage on that home. That's way better than a "hand out"… they train people to become responsible homeowners. Very cool.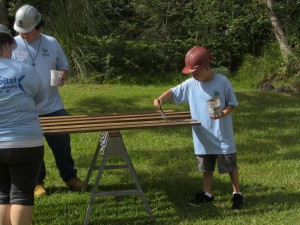 Jackson helped build a deck, Buck stained wood and I helped with flooring. Hard work but so gratifying. The Habitat for Humanity staff could not have been cooler.
Our last stop was the 9th ward in New Orleans. We were pleased to see a lot of homes rebuilt. There is still a long way to go, but there was definitely progress!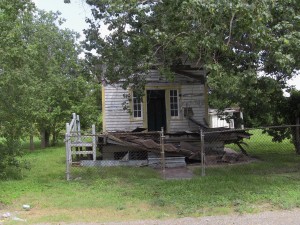 And now we have returned to Charlotte. The boys are back in school, and I have returned to teaching acting and doing weekend seminars in Atlanta, Wilmington, Williamsburg, and any other city that will have me… 🙂
But my focus has changed. I am on a mission to help the organizations we were lucky enough to work with on our trip. The world needs our help. And the Lewis family is committed to do our part. We are in the process of building our business plan for our foundation with the help of an incredible Board of Directors and team of administrators. I am the luckiest man alive when it comes to being surrounded by smart, focused and supportive people. Thanks to all that are helping me to focus on the task ahead. A special "shout out" to Mike Watson, Candice Langston, Desiree Kane and Jillzey. You are my Dream Team and I feel so fortunate to have you on my side. Beyond grateful. And to Larry Sprinkle, Rob Shapiro, Kristina Haddad, Bo Henderson, Ed Springs, LuAnne Bernier, Liz Branca, Ed Smith, and a ton of others who are the absolute best!
My reflection on our journey… I know I'll start crying writing this. There I go… didn't take long. I feel so blessed and fortunate to have had the journey of a lifetime with my two sons at my side. All three of us are different people now. We have seen things that so few will have the opportunity to see… good and bad. We have met extraordinary people all over the world whose kindness has touched us so deeply. My sons have learned that the world is an incredible place with wonderful people everywhere…regardless of race, color, creed, and orientation. This journey is my legacy…. Something that will stay with my sons long after I am gone. Something they will share with family, friends and their kids. It has not only changed their lives but will also change the lives of all those they interact with forever.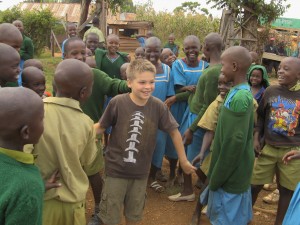 Buck said to me the other day that he is committed to making a difference in the world. Do you know what it's like to have your 9 year old say that to you and mean it? I am the proudest father on earth.
My sons were so brave in so many ways on this trip. They were thrown into situation with a language barrier, tough accommodation, intense weather conditions, questionable health conditions, crazy food, and yes, they had to share a room with their dad for a full year! But, I'll tell you, they worked their butts off… sometimes 10 to 12 hour days. For all of you who backed us up on this project… our friends, family, followers, supporters and sponsors… Jackson and Buck Lewis did you proud! And heck, I did okay myself!
So now the work begins. Stay tuned as we name our new Board of Directors, our administrative staff, and the 12 projects that Twelve in Twelve is taking on. So much is about to happen with this organization. I'm beyond excited.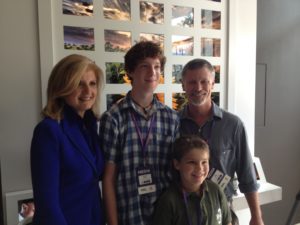 Oh, yeah… The Huffington Post named us, "American Heroes", I got to meet Arianna Huffington (who couldn't have been more supportive and kind) and they are giving us our own blog on Huff Post. What an honor!
Let us know if you would like to be involved with Twelve in Twelve, as we head into the future with sails wide open.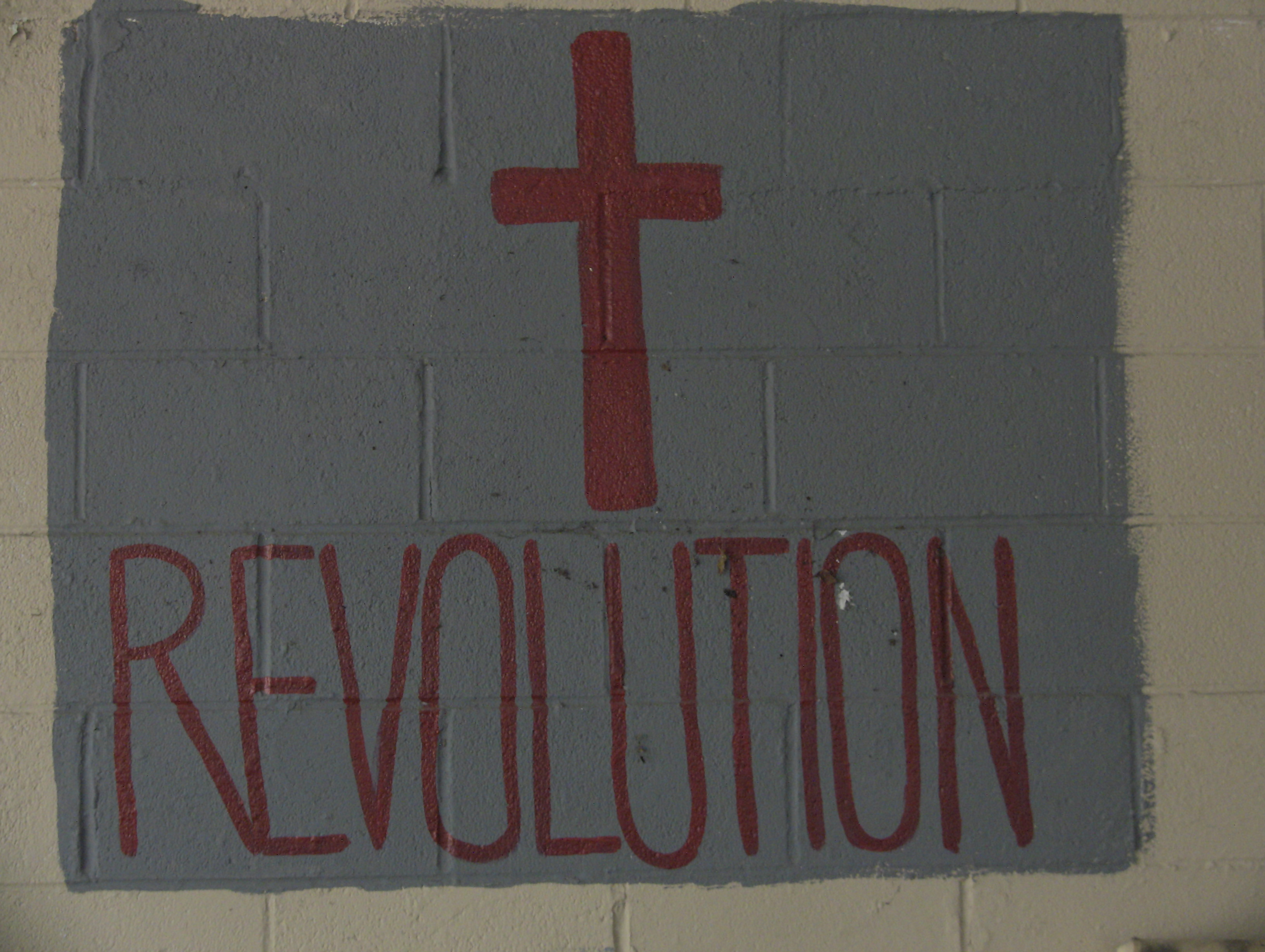 Oh, believe me… the Love Revolution continues!!!
And you can always donate to the cause as well.. Link on the website. Spread the word!
Big Love from The Lewis Boys. More to follow!